Virtual Faire
November 7, 2020 @ 6:00 am

-

11:00 am

Free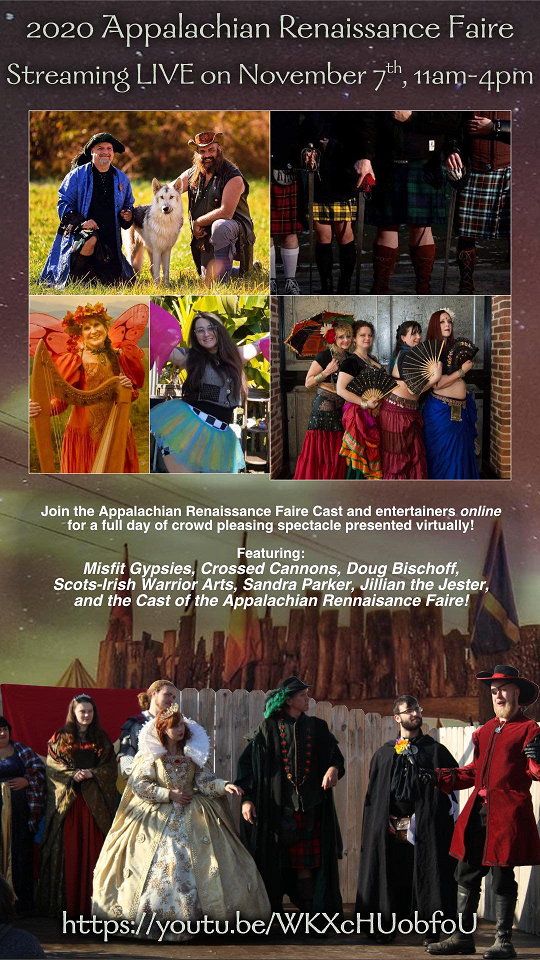 Come and join us virtually for our 2020 Faire Season!
Featuring past ARF favorites to warm your Renaissance spirit this autumn:
Misfit Gypsies
Crossed Cannons
Doug Bischoff
Scots-Irish Warrior Arts
Sandra Parker
Jillian the Jester
… and the cast of the Appalachian Renaissance Faire!
---
What is a Virtual Faire?
A plague is on all of our houses this year! But that doesn't mean we all can't still enjoy the revelry of our favorite renaissance faires, including the Appalachian Renaissance Faire. We will be hosting several entertainers through a "passing of the link" on YouTube. Much like you visit different stages on our grounds, you will be provided with the YouTube link to visit the next "stage" for our entertainers! The links to the next "stage" will be provided at the bottom of each entertainer's YouTube description so you can easily get to the next act—even faster than walking across the grounds to another show!
ARF's Virtual Faire is free to attend, though we will also be providing a link to a place you can donate, and we ask for you to donate the price of a ticket, if you can. The donation is much like the "gate" at our faire, and while it's not required, your patronage is not only always appreciated, but also immensely helpful in keeping ARF running.
We hope to see you there!